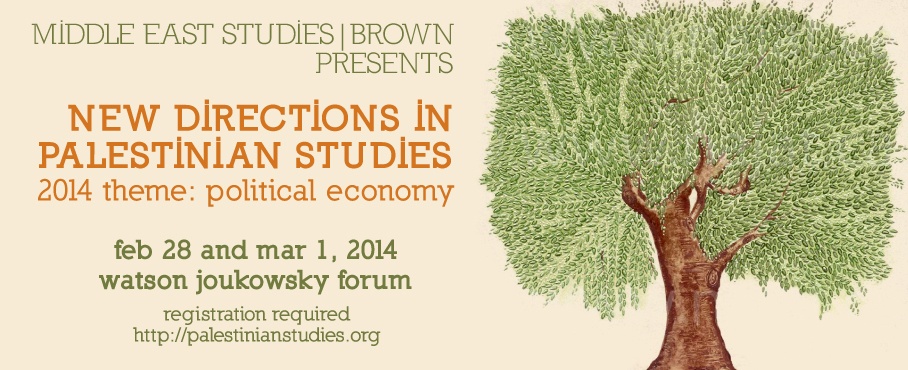 Political Economy and Economy of the Political
February 28-March 1, 2014
Joukowsky Forum, Watson Institute for International and Public Affairs
Friday, February 28
---
8:30 - 9:00 a.m.: Registration
---
9:00 - 9:30 a.m.: Welcoming Remarks and Introductions
Beshara Doumani, Director, Middle East Studies, Brown University
---
9:30 - 11:30 a.m.: Critical Reflections on the Political Economy of Palestine

Discussant: Sherene Seikaly 

Participants:
1. Jamil Hilal: Palestinian Class Formulation under Settler Colonialism
2. Leila Farsakh:The Meaning of Palestinian Economic Development
3. Raja Khalidi: Is There a Palestinian Economy?
---
11:30 a.m. – 1:00 p.m.: Infrastructure
Discussant: Mayssun Succarie 

Participants:
1. Sophia Stamatopulou-Robbins: Infrastructure and Materiality
2. Omar Jabary Salamanca: Hooked on electricity: the charged political economy of electrification in the Palestinian West Bank
---
1:00 – 2:30 p.m. Lunch for hosts and panelists
---
2:30 - 4:30 p.m.: Land
Discussant: Jo Guldi 
Participants:
1. Martin Bunton: Frames of reference for the study of land in Palestine
2. Munir Fakher el-Din: The Legacy of late Ottoman and British-Mandate land reforms in Palestine, 1858-1948
3. Ahmad Amara: Echoes of Legal Pasts: Landed Property Relations in the Negeb, 1858-1948
---
4:30 - 5:00 p.m. Coffee Break
---
5:00 - 7:00 p.m.: Class
Discussant: Zachary Lockman

Participants:
1. Mezna Qato: Archives and Class in Exile
2. Susynne McElrone: Qaḍā al-Khalil— Commerce, Business, and Livelihoods in the late-Ottoman rural sphere
3. Leena Dallasheh: Working for Palestine: Nazareth Labor Mobilization in the 1940s
---
7:15 p.m.: Dinner for hosts and panelists
---
Saturday, March 1
---
9:00 - 9:30 a.m.: Registration
---
9:30 - 11:30 a.m.: The Politics of Economy
Discussant: Beshara Doumani
Participants:
1. Sherene Seikaly: Social Man: Palestinian Capitalists and Economy
2. Sreemati Mitter: A History of Money in Palestine: The Case of the Frozen Bank Accounts of 1948
3. Samia Al-Botmeh: The Political Economy of Palestinian Women's Labour Supply: 1920-2010
---
11:30 a.m. - 1:00 p.m: Political Economy of Occupation
Discussant:  Manal Jamal

Participants:
1. Shir Hever: Privatization of the Occupation: The Core Masked as the Periphery
2. Omar Tesdell: Land and the Question of Palestinian Cultivation
---
1:00 - 2:30 p.m. Lunch for hosts and panelists
---
2:30 - 4:30 p.m.: Political Economy of Peace 
Discussant: Sa`ed Atshan
Participants:
1. Kareem Rabie: Housing, the Production of the State, and the Day After
2. Alaa Tartir: Failing Aid: Towards a Viable Resistance Economy Model
3. Mtanes Shihadeh: The Israel Policy towards the "Arab Economy"
---
4:30 - 5:00 p.m. Coffee Break
---
5:00 p.m.: End of Formal Program
---
5:00 - 6:30 p.m.: Next Steps
Concluding Remarks by Rashid Khalidi, Ilan Pappe, and Beshara Doumani
---
7:00 p.m.: Dinner for hosts and panelists